Welcome to Runnin Outta Time Farm
Mission
We are retiring!
Our mission for 35 years has been To produce World Class halter and performance AQHA/ IBHA/ ABRA Buckskin, Dun, and Grulla horses.
We have been developing this breeding program for over 30 years. The Get of our Stallions and Produce of our Broodmares have won several World Championships, many Futurities, Top 10 at Quarter Horse Congress, Top 10 Honor Rolls, multiple Superiors, and multiple ROMs.
We are presently dispersing our herd except for a very few for our grandchildren to have to ride.
Below is an example of our success. Dale Evans Music was the ABRA World Champion Hunter Hack in 2005
Our Daughter, Charly, under the quidance of Sandra Vaughn took this young horse and carried her through a very intensive training program starting in March of 2005 and culminating in the World Championship four months later. All of the horses you will see have been raised and trained on our farm. They are handled from the day they are born until they are sold. This is the basis of our success that produces people friendly, mentally secure, and well trained horses.
Dale is now in our Brood Mare band and has produced two outstaning babies, and is in foal to "These Irons Are Hot". You may see Flirty and Roy on our for sale page and Happy Customer page.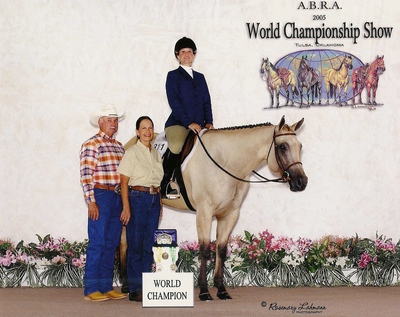 Located in the Horse Capitol of America
We are located in the heart of Horse country about 30 miles west of Ocala in the small town of Bronson, Florida. We invite you to come and visit with us and see the color horses that we offer. They are all AQHA bred and we are very succesful in producing the Dun and Cream Dilutes.
Runnin Outta Time Farm 9651 NE 46th Lane Bronson, Fl 32621
(352) 486-7030 or (352) 317-4018
email Sam with any questions at
or reach Deborah on